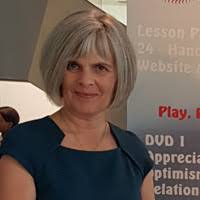 Michaela Avlund is a Positive Psychologist who
specialises in Wellbeing & Happiness Skills and has been working with groups or individuals around Happiness Skills for over 20 years.
She also works with teachers, schools and Transition Year students.
Her greatest wish is to see Happiness and Wellbeing Skills education being implemented in the Irish school system.
These are skills we need to learn from an early age onwards. She has created a 14-part video series for Secondary Schools based on her book
'Happiness Skills based on Positive Psychology'
which came out of her specialising in Positive Psychology in Education for her MSc in London.
Apart from her
Well-Being and Happiness Skills series,
she has previously written and co-produced two Self-confidence and Relationship DVDs which have been used in Secondary schools all over Ireland.
Michaela loves walking and cycling on country roads around Wicklow and Kildare but also leads groups in various parts of Ireland for Positive Psychology, Creative Writing and Meditation Getaways. She
grew up in Denmark and loves visiting her dad and siblings and families preferable a few times a year.